So you've recently discovered Mythic Legions (or perhaps Cosmic Legions or Figura Obscura...) and decided you'd like to start collecting these amazing figures. After looking online and realizing there are already close to 200 figures released, and then hitting eBay and seeing that some of those figures sell for hundreds of dollars, you may be feeling a bit overwhelmed. Don't worry, we're here to help. In this article, we will cover the best ways to get started as a new Legions collector, how to keep up to date on the lines we offer, and even how to score some of those older figures you may want without going bankrupt in the process!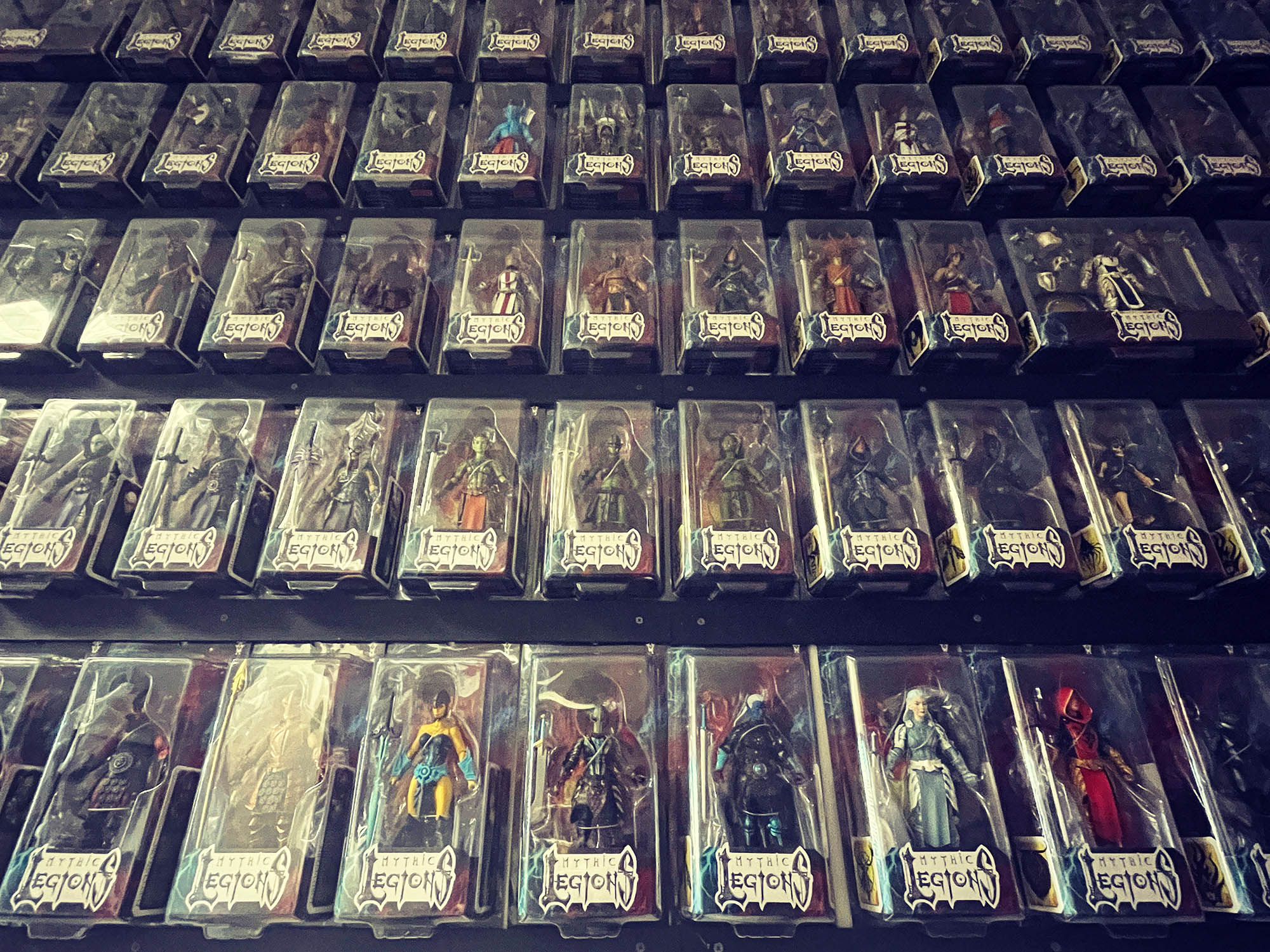 You've Come to the Right Place
First and foremost, you are here on our website, which is a great place to get started. Check out our page on Mythic Legions 101, which will detail the history of the line and some basics on these toys. You will also want to check out the Mythic Legions checklist. That list will show every single figure that has been released to date so you can see what is out there. Select any figure to see more pictures of that toy, what wave(s) it was released in, and the bio for the character.
This checklist will allow you to start creating a "wish list" of which figures you would like to add to your collection. Fair warning, figures that were only released in older waves will be much harder to come by than newer figures, but this checklist is a great place to begin exploring the characters that make up the Realm of Mythoss.
This website will also help you stay up to date on the latest news on the line and events where the studio will be appearing (more on that shortly). Our blog is also a wonderful way for you to dig deeper into Mythic Legions and Four Horsemen Studios with new content and articles posted every week!
Jump on Those Pre-orders
OK, so you are ready to buy your first Legions – where should you begin? Check out our official shop at StoreHorsemen.com. There are not always items available for order from our store, but if there is currently a pre-order running, you will want to jump on that!
StoreHorsemen.com pre-orders are the best way for you to get new Mythic Legions figures at the best prices. With pre-orders, you do not need to worry about an item "selling out" and the per-figure prices are always the lowest these are offered for. There are also often "All In" packages as part of these pre-orders that allow you to purchase an entire wave for a slightly discounted price.
If you do decide to jump in on a pre-order, there are two important things to be aware of:
Funds are collected at the time of order or shortly thereafter

You will have a bit of a wait before your items ship. Depending on the pre-order, this production period can take anywhere from 9 months to well over a year. Patience is important when pre-ordering Mythic Legions!
A Note on "In Stock Sales"
As you start looking into Mythic Legions, you will inevitably hear rumblings of "In Stock Sales". These sales can be both awesome and stressful at the same time.
When the studio places an order with the factory, we always order extras to help resolve quality issues fans may have and to also have some stock on hand for toy shows and other sales. One of those sales is what we can the "In Stock", which happens sometime after all pre-orders for a wave are fulfilled. The benefit of the In Stock sale is that the items are sold on StoreHorsemen.com for the same price as the pre-order, and they are actually in stock and ready to ship, so there is no extended wait to get your figures in hand! The downside is that the quantities we have for sale are not unlimited. Demand during these sales is high and items often sell out quickly. There is no guarantee you will be able to get the items you want from an In Stock sale, so your best bet is to select a few items you most want from these sales and try for those, rather than attempting to fill your cart with every figure offered.
In Stock sales can be a good way to add a few select pieces you missed out on during a pre-order, but if you try to use these sales as the primary way you purchase Mythic Legions, you will undoubtedly end up frustrated and disappointed.
Get to a Show
Four Horsemen Studios exhibits at a number of toy shows and events each year. You can find the latest list of where we will be on our website here.
We almost always have products for sale at these shows. Sometimes we even have "show debut" figures, which are limited quantities of figures which have been offered during other pre-sales, but which are being offered at these events before those pre-orders even ship!
If you can make it out to one of the shows Four Horsemen Studios is attending, you will not only get a chance to buy some toys, you will also get to meet the team behind the line! Of special note is the annual LegionsCon event in New Jersey (takes place Nov. 5&6, 2022). This 2-day show is totally dedicated to Four Horsemen Studios, the Legions lines, and the incredible community of fans and artist creators who help make the line's successful possible! In addition to us selling our own products like at other shows, LegionsCon also includes limited show version figure releases and an incredible roster of people exhibiting and selling artwork, Legions customs, apparel, and so much more. If you can only make it to one show a year, LegionsCon is the one you want!

Check Out Our Authorized Retailers
So what happens if there is no pre-order or In Stock sale happening and you can't get out to a show where we will be? This is where our Authorized Retailers can help you with your Mythic Legions purchases. These online retailers (some do also have physical stores) carry an assortment of our figures. While the prices on these figures will be slightly higher than what you will find during a pre-order, by buying from an authorized retailer you know you are getting legit product from a source we trust. These retailers offer both pre-order sales as well as in-stock items, so check these sites to see what is currently available. You can see a list of these retailers here.
Join the Community
One of the best things about Mythic Legions is the amazing community of fans who have sprung up around this line. Joining that community is not only a great way to share your love of the line with fellow fans, but it can also be a way for you to get some of the figures you may be missing!
There are a number of Facebook groups for Mythic Legions, including the official fan community known as the Mythic Legions Cabal. These groups are all great and they regularly include people who are selling individual figures and even entire collections of Mythic Legions toys! Consider joining one, or even a few, of these groups and join in the conversation while keeping your eyes open for people offering up the Mythic Legions toys you may need.
Meetup at events is also a great way to interact with fellow fans, especially at our yearly flagship event - LegionsCon! Below is an image from an after hours get together from LegionsCon 2021, just one of numerous fan-fueled gatherings that were part of the weekend of Legions events that year!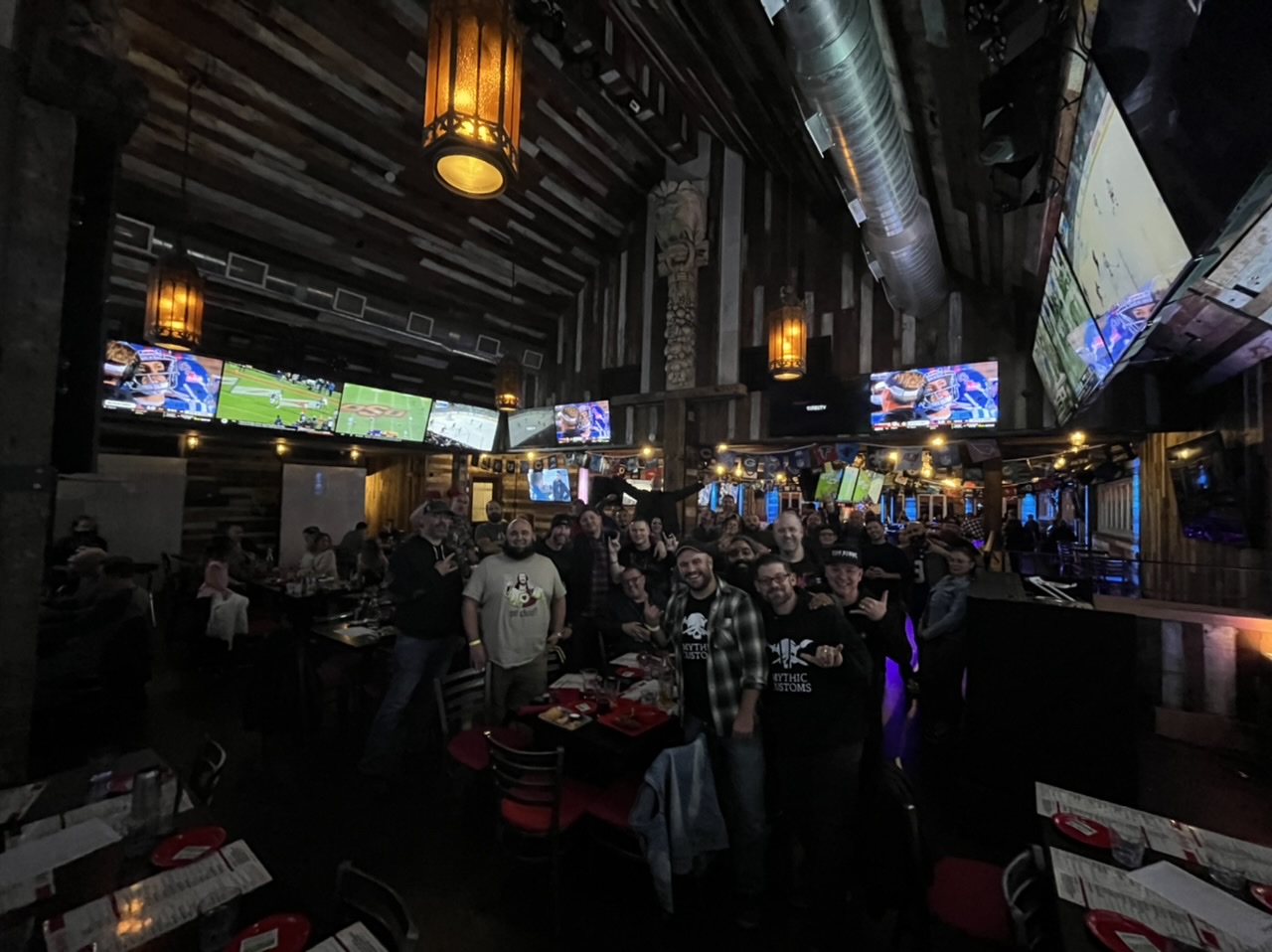 Check Out eBay...but Be Patient!
OK, so let's address the elephant in the castle – eBay prices. If you are looking for an older Mythic Legions figure that is sold out everywhere, eBay is likely to be where you will turn. As you do so, you will discover that the price for some of our older releases can get very expensive. We obviously have no control over the prices on the secondary market, and we do really want our fans new and old to have access to our figures. This is why we regularly re-release characters as part of All Star waves (and we allow the fans to actually vote on which characters will be reissued).
Of course, not every figure makes it into an All-Stars release, so the secondary market is certainly one way to secure older characters. Our one piece of advice to you is to be patient with eBay sales. We are toy collectors too, so we know how tempting it can be to jump on that auction for the figure you have been hunting for, even if the price is way more than you have seen it sell for previously. This is obviously a decision you will need to make for yourself, but we will tell you that we have seen prices for our figures go both really high and surprisingly low. Patience often pays off either through a really well priced auction, or a fellow fan helping you out on one of the aforementioned Facebook groups! No matter what you choose, just remember…
Have Some Fun!
Mythic Legions is meant to be fun, so enjoy this hobby and the amazing community of like-minded fans! Check out some of the amazing customs that people create with these toys, listen to fans talk about the line on podcasts, and even share some of your own collection photos and "Mythic hauls" on the fan groups! We are happy to have you a part of the Mythic Legions community. Welcome to Mythoss!
First published on 02.28.20
Published on 03.29.22