After an incredible year in 2021, we had very high expectations heading into 2022, and our fans did not disappoint! Legionnaires helped make 2022 the most incredible year that Four Horsemen Studios has ever had – a year which saw expansions on the Cosmic Legions and Figura Obscura lines, as well as the continued success of Mythic Legions. In this "Behind the Scenes" article, we will take a month-by-month look at the past year from Four Horsemen Studios!
January
The year began with the final few weeks of the Mythic Legions: Poxxus wave, providing a nice bookend to the calendar year as it began with the 3rd Horseman wave and ended with the final Horsemen reveal (Necronominus).


January also saw the long-awaited release of the Mythic Legions: Legion Builder Reinforcements! These reissued Legion Builder figures were a welcome addition for many Legions collectors and customizers, as some of these figures, like the Black Knight and Orc Legion Builder 1, had not been available in years. This wave also included super popular characters like the Templar and the Barbarian Builder kit, getting more of these into fans' hands. These "in stock" items went fast as Legionnaires built up their armies with this release.


February
Back in December 2021, we surprised fans with the release of a new line from Four Horsemen Studios – Figura Obscura! The inaugural release in that line, the Yuletide demon Krampus, sold out in less than 24-hours and many fans who missed out wanted another chance at the character. They got that chance in early February with the reveal of the "retailer exclusive" Red Krampus figure from Figura Obscura.
This figure was only offered via the studio's Approved Retailers and the figure shipped right as the holiday season kicked in, being one of two items in 2022 that had a preorder and fulfillment in the same calendar year (the other one being All Stars Trolls)!


March
The third month of the year saw the return of the popular "All Stars Voting" process, this time with some changes to the experience! Fans were able to select previously released figures from 3 categories – heroes, villains, and 2.0 figures. The top 10 vote getters from this round were added to a final battle-royal-style vote with 3 final winners selected for inclusion in the new All Stars wave.
Originally, the studio had planned to release this All Stars wave shortly after the vote, but some necessary changes in the schedule ended up pushing this wave further in the year and giving fans more time to wonder who the winners were and what other surprises we may have had in mind for that wave!
March was also our first live event of the year, as we returned to Zolocon once again! We always love visiting "The Largest Comic & Toy Expo In Bucks County", and as in past years our fans came out to see us and score some Legions!


April
April began with another one of our popular "Intern for a Day" events as we welcomed Legions fans to our studio for a full day of workshops and other fun – and we ended the event with a special live reveal broadcast that the Interns got to be a part of. The wave being revealed? It was the second look at the universe of Cosmic Legions as we unveiled the "Hvalkatar, Book Two – Gravenight" wave!


In addition to the release of the "Gravenight" wave, this was the month wen we also revealed a fun collaboration we had worked on as part of this new wave – some Cosmic Legions art by Tom Whalen featuring Kraggnar and Kannox Vull! This artwork was sold as T-shirts from our partners at RetroRagsLimited. We also did a limited run of prints and offered those for sale as well.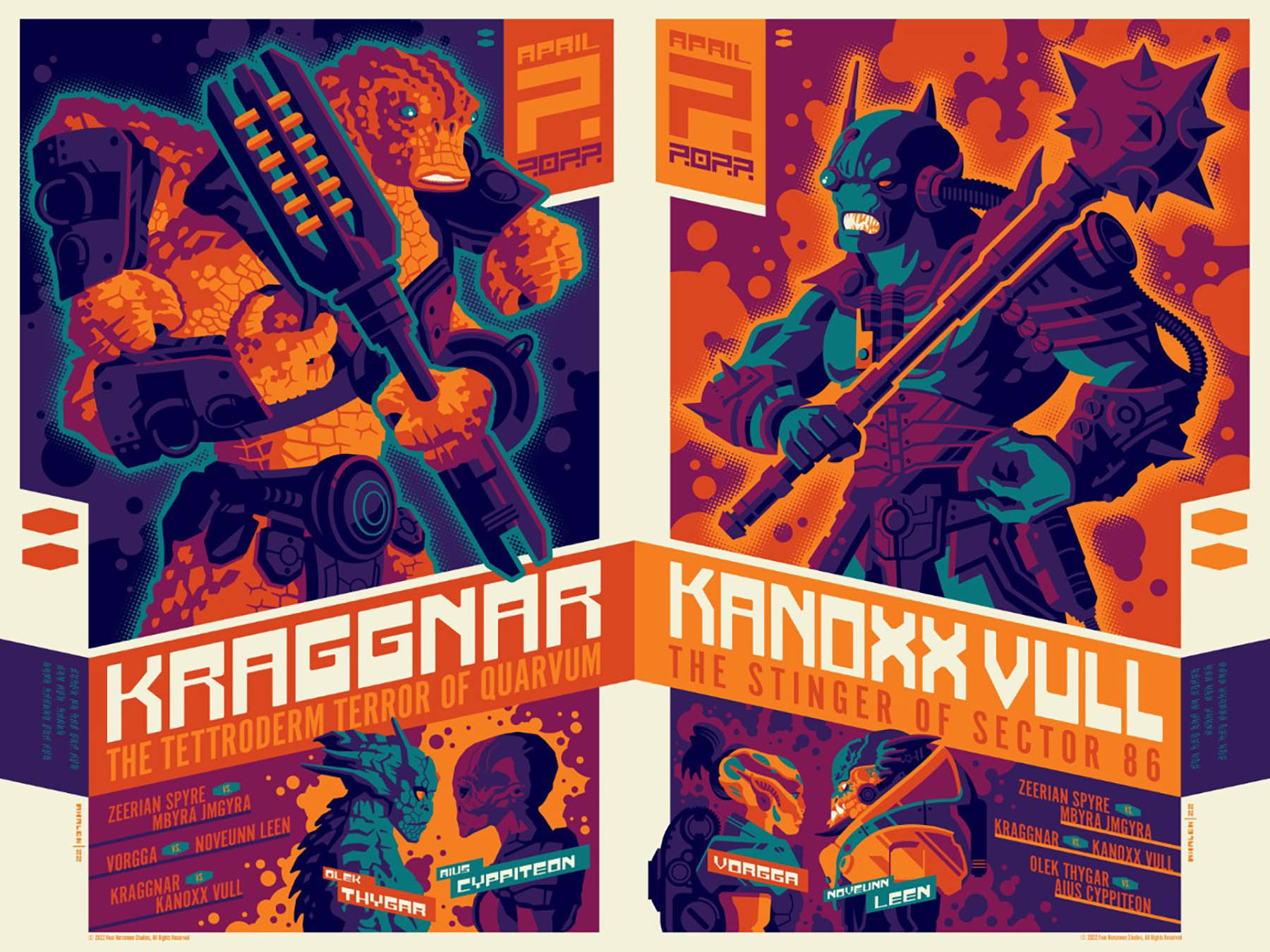 May
This month did see the release of some Mythic Legions "All Stars", but not exactly as fans expected! We had some big ideas for this year's main All Stars wave, plans that did not allow for Trolls to be included! Rather than skip or postpone a reissue of the Brontus figure, which fans knew was the next Troll in line for the All Stars treatment, we elected to do a special "All Stars Trolls" wave that included not only a new version of Brontus, but also a second version of the popular Ice Troll!


June
While there were no new preorders open in June, this was still a big month for the studio as container after container arrived and both the Mythic Legions: Illythia and Deluxe Legion Builder waves began shipping! The sheer size of these waves meant that we received them over the course of several weeks as we began what we referred to as the "Summer of Shipping" for Legions products!
June was also a month where we visited a brand new toy show - the Shop the Curiousity show in Danbury, CT! This was the shows first ever event and it was tons of fun! Once again, Legions fans came out in force and we had a blast meeting everyone!
July
At long last the wait to find out which warriors prevailed in the Mythic Legions: All Stars 5 voting was over as the full wave was revealed and made available for preorder!
This All Stars was unlike any that had come before, as it included not only 3 vote winners and a pair of Power-con debut figure, but also 5 brand new characters! Dubbed "All Stars 5+", we enlisted the help of our fan community to help us reveal the figures that would be included in this new wave!
July was another "first time event" for us as we exhibited at the ChrisCon show in Taunton, MA! This small show was a wonderful afternoon with a very intimate and fun atmosphere, including a "customs contest" that was dominated by Legions entries! It was great to see so many creators come out and be a part of this experience.


August
The All Stars 5+ preorder stretched into August and the team headed to Columbus, OH for the latest Power-con event. This was the first time this event had been held in OH and it proved to be a wonderful decision as the fans came out in force to support Power-con and Four Horsemen Studios! We brought a massive diorama to the event, we displayed Cosmic Legions test shots for the first time ever, and we had the Power-con debut figures in hand for sale along with a truck full of other products – and the fans still wiped us out each day! We sold out of everything we brought for the weekend and got to hang out with some amazing fans in the process. It was easily the best Power-con we've ever had and we cannot wait to do it again in 2023!
September
September was the calm before the storm. This was the only month in 2022 without a significant preorder, event, or announcement – but as the month ended and October loomed, we had a big surprise in store.
One new thing we did do in September was attend the RetroCon event in PA. Getting to hang out with our friends, including Walter Hagen who flew in from CA and the crew from Wolf King Customs is always lots of fun, and they were all on hand as part of this event weekend.
October
The second Figura Obscura character made a surprise appearance at the start of the month as the Headless Horseman was revealed! This deluxe 2-pack set sold out in just over 24 hours. The amount of figure photography we saw using this set, and the rave reviews it received from fans, really blew us away. This release also started to show some of the range that the Figura Obscura line would have and once again got fans speculating about what other surprises we had in store for the future of this line.
The Headless Horseman set would go on to become one of the most talked about figure releases of 2022, appearing very high on many fans and reviewers "Top 10 Lists" for the year. We are honored to have the toy receive that kind of recognition and incredibly thankful to fans new and old who spread the word on this release!
October was also the month where we returned to ToyConNJ in Wayne NJ (we actually did a ToyConNJ event earlier in the year in April as well). Since this show was just a few weeks before our big LegionsCon event, we wanted to mix things up a bit, so we did a "scratch and dent" sale at the show and brought out lots of "less than perfect" items for fans to buy. There were some oldies on the table and fans scooped up lots of items to fill their collections!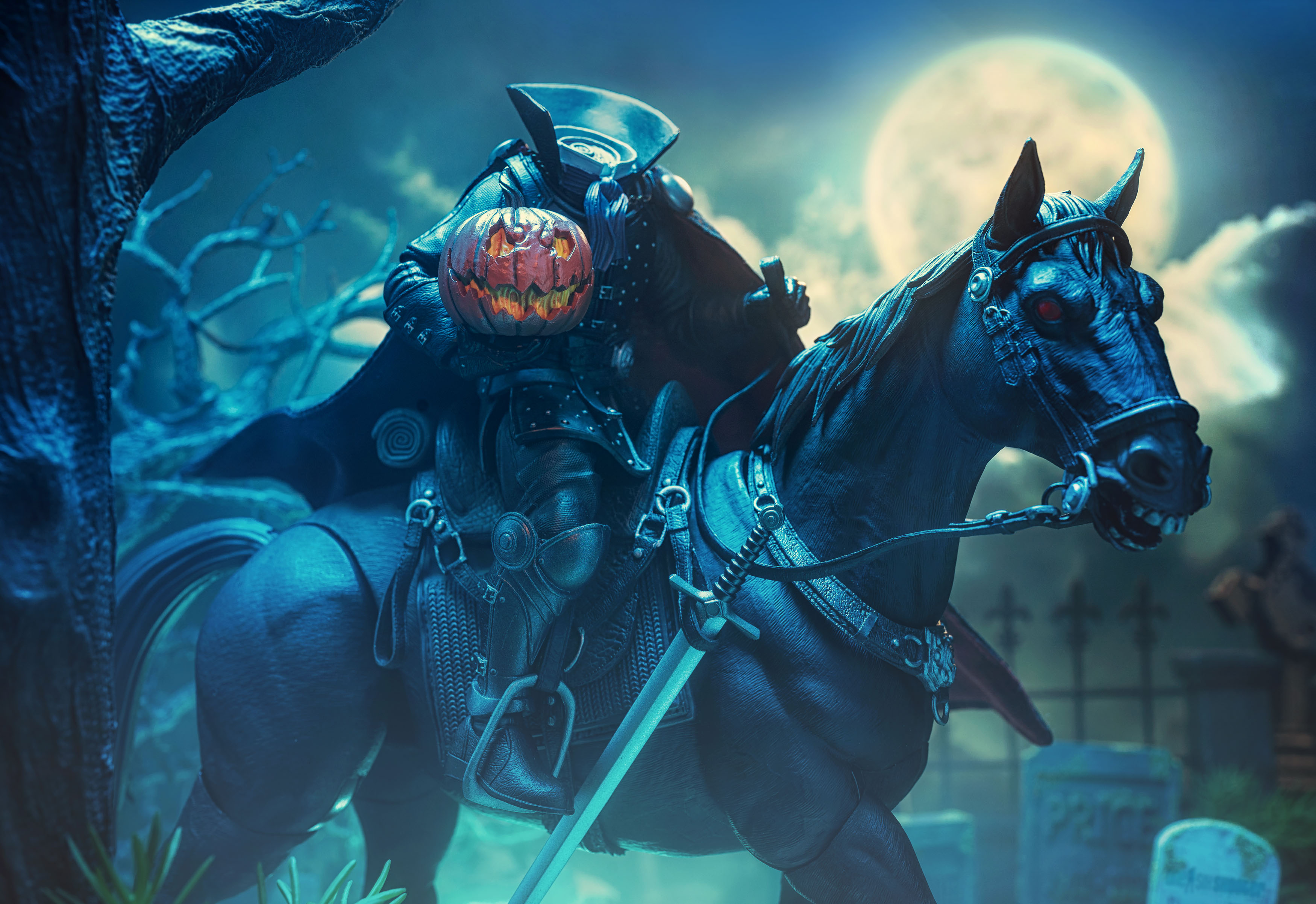 November
Our biggest month of the year began with the epic "Mythic Weekend 2023". This combination of Intern for a Day, G-con: Necronominus, and LegionsCon 2023 was incredible. Not only did we get to spend 4 days with the coolest toy fans in the world, both at our studio and at the LegionsCon event, but we were able to reveal the fourth member of the Dark Four – the Lord of Death known as Necronominus!


The Mythic Legions: Necronominus wave (which is available for preorder now at StoreHorsemen.com) is our most ambitious wave to date. Filled with tons of new tooling, the ideas for this wave proved to be so expansive, that to make sure wave was a realistic size, we decided to "push" some of the ideas into a later wave! At the end of G-con, we announced that 2023 was the "Year of Necronominus", and that the battle between the undead army and the Knights of Eathyron would continue into All Stars 6! That cannot be good for the heroes of Mythoss – but it is great news for Mythic Legions fans who want more knights versus skeletons!


December
For the final month of the year, we had one more surprise in our sack – another Figura Obscura release! We are of course referring to the Father Christmas figure which was dropped in early December. This figure once again struck a chord with fans new and old, and the shipping elves in the Four Horsemen Studios' warehouse worked tirelessly to make sure that Santa Claus made a visit to toy fans who ordered him before the holiday!
We also did one final event in December - the Black Forest Krampusnacht in Jim Thorpe, PA! This was a unqiue event since we ONLY sold Figura Obscura figures at the show, but since it took place the day after Father Christmas dropped, fans who attended were able to be the first ones to have Santa in hand!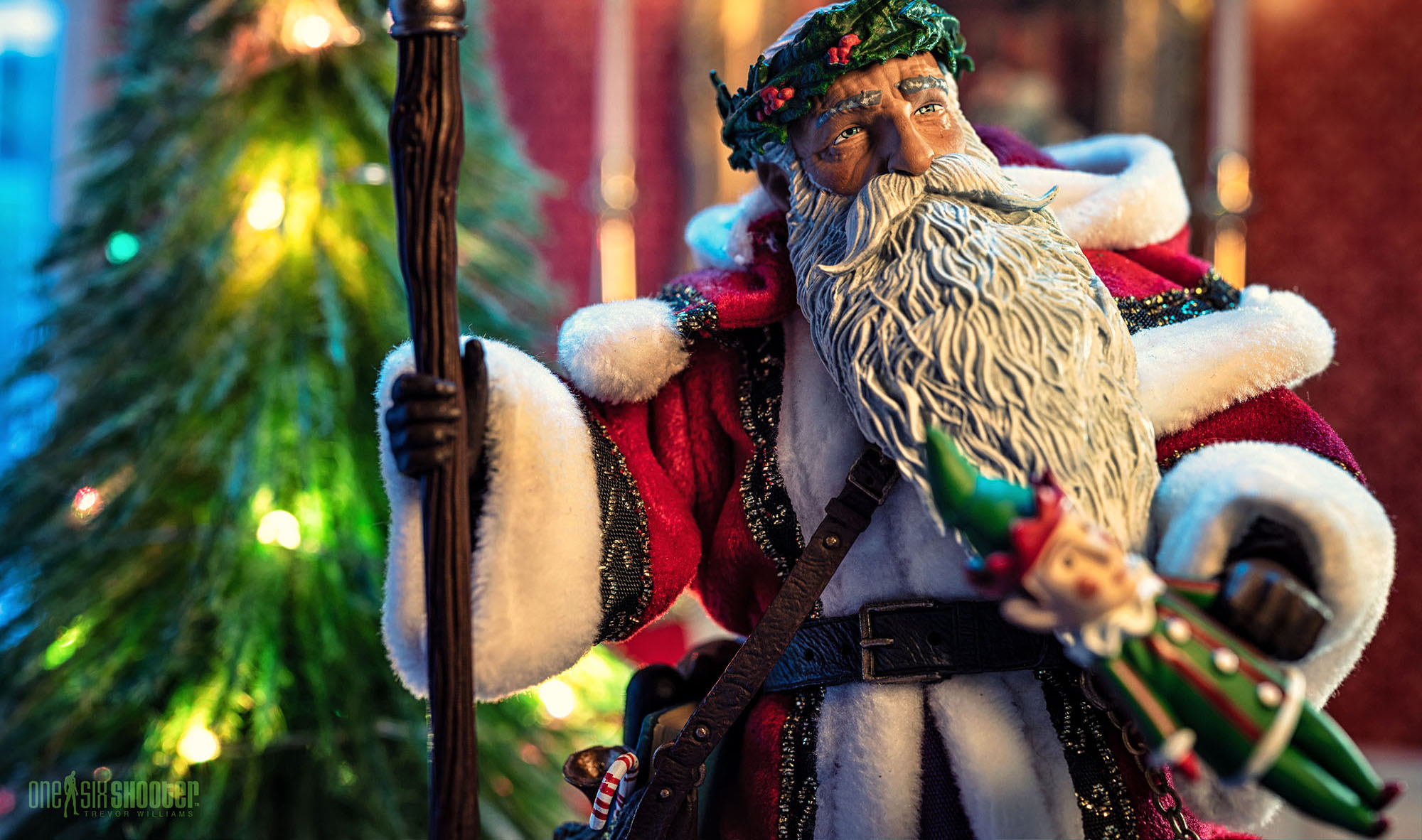 What to Expect in 2023?
After such an amazing year in 2022, will the studio be able to top that in 2023? We will certainly do our best to try! Here are some things to look out for:
This will be the year that Cosmic Legions arrives in fans' hands! That is very exciting, and you will see how this universe expands beyond what we have seen so far as we delve deeper into Cosmerrium in 2023!

As we announced at G-con, 2023 will also see more of the undead of Necronominus pour into Mythoss via All Stars 6! Now that all the members of the Dark Four are revealed, the fate of Mythoss hangs in the balance, and we've got some surprises in store for Mythic fans this year.

Of course, while we will be focusing on Cosmic Legions and Mythic Legions, we can't forget about Figura Obscura! You never know when the next Figura Obscura will appear – but rest assured that we have some very cool things in works for 2023.

In terms of events, we have a full calendar of places we will be, including our two big flagship events of Power-con in OH in August and LegionsCon 2024 in NJ in November! In addition to these big events, we will also be returning to Zolocon, ToyConNJ, Shop the Curiosity, and ChrisCon for 2023, and we will be doing a brand new show in GA called ToyLanta! We hope to see you out at some of these shows this year!
On behalf of ALL of us at Four Horsemen Studios – thank you for making the past 12 months so amazing, and here's to what we expect will be an incredible new year in the world of Legions!
Published on 01.04.23