News Update
Spring is in the air and we have a BIG month planned here at Four Horsemen Studios! Here is what is happening:
ALL STARS 6 VOTING
It is that time of year again – time for Legionnaires to vote on their choices for Mythic Legions All Stars! If you've been part of this process in past years, you likely know what to expect – somewhat. We always like to mix things up and add some surprises, and this year is no different!
As in past years, we have selected 20 worthy fighters to compete for the title of "Mythic Legions All Star". You will be able to choose your top 3, and once all the votes are tabulated, the top 3 overall vote getters will be named Mythic Legions All Stars and reissued as part of this new wave.

In addition to these three winners, All Stars 6 is also the first time that we are including an "All Stars Alumni" vote! In the past we have never allowed a previous All Stars figure a shot to be voted on again, but this year we have selected 4 previous All Stars for this "Alumni" category. Fans can select their favorite and the top vote getter will be an All Star for the second time!

Voting will begin this Friday, 5/5, and will run for 1 week (5/12) or until a set number of votes are recorded. We've never maxed out our allowable vote totals on the survey platform before, but with the growth of the Legions community, this could be the year we do so! Once we reach that lofty number of recorded votes, the polls will close and results will be tabulated.

Links to vote are sent via Email to everyone on our StoreHorsemen.com mailing list. This includes anyone who has made a purchase on that site since the Illythia wave. Everyone is allowed a single vote. Note that we use SurveyMonkey for this process and emails will come from SurveyMonkey.com. If you want to ensure your ballot does not end up in Spam or blocked, you will want to "whitelist" emails from SurveyMonkey.com as well as 4hmd@optonline.net. The way to do this depends on your email client (Gmail, Yahoo, Hotmail, etc.). Searching for "how to whitelist emails" in your preferred email platform should detail the information you need to do this. Note that once emails are sent, we cannot resend to the same address, so making sure you are ready to receive this email before we send it is helpful. Emails will go out this Friday morning (5/5) and we will make a post once they are on the way.

Vote winners will be announced near the end of the month. Additionally, when we ended our Mythic Legions: Necronominus event last November, we revealed that All Stars 6 would be a continuation of the Necronominus reveals. These brand-new, never before revealed figures will ALSO be a part of the All Stars 6 wave, and they will be fully revealed in a live special on Friday, June 2nd! The preorder for Mythic Legions: All Stars 6 will begin immediately following this reveal special. Stay tuned for more details on this soon!
So - who have we chosen for this year's All Stars combatants? You can see the roster in the image at the bottom of this post. Let the campaigning begin - and may the best fighters emerge victorious as this year's Mythic Legions All Stars!
MAY IS LEGION BUILDER MONTH
As if the news about All Stars 6 was not cool enough, we have also decided to make May "Legion Builder" month! As a "thank you" to our fans, for May 2023 only the Deluxe Legion Builders wave will be on sale via many of our Approved Retailers! The Deluxe Dwarf, Skeleton, Gladiator, Goblin, Dark Templar, and Barbarian will each be $34.99 via any of our Approved Retailers who elect to participate in this promotion. This will hopefully allow those fans looking for extras of these figures, which are ideal for army building and customizing, to add some to their collection! Need some bodies to go with those All Stars 5 Heads Pack heads? This is a great way to get that done!
This Legion Builder promotion is ONLY for the month of May, so if you are looking to build your Legions or fill your fodder bins – this is the month to do it!
May 2023 is shaping up to be an AWESOME month for Legions fans! Thank you for your continued enthusiasm and support of Four Horsemen Studios.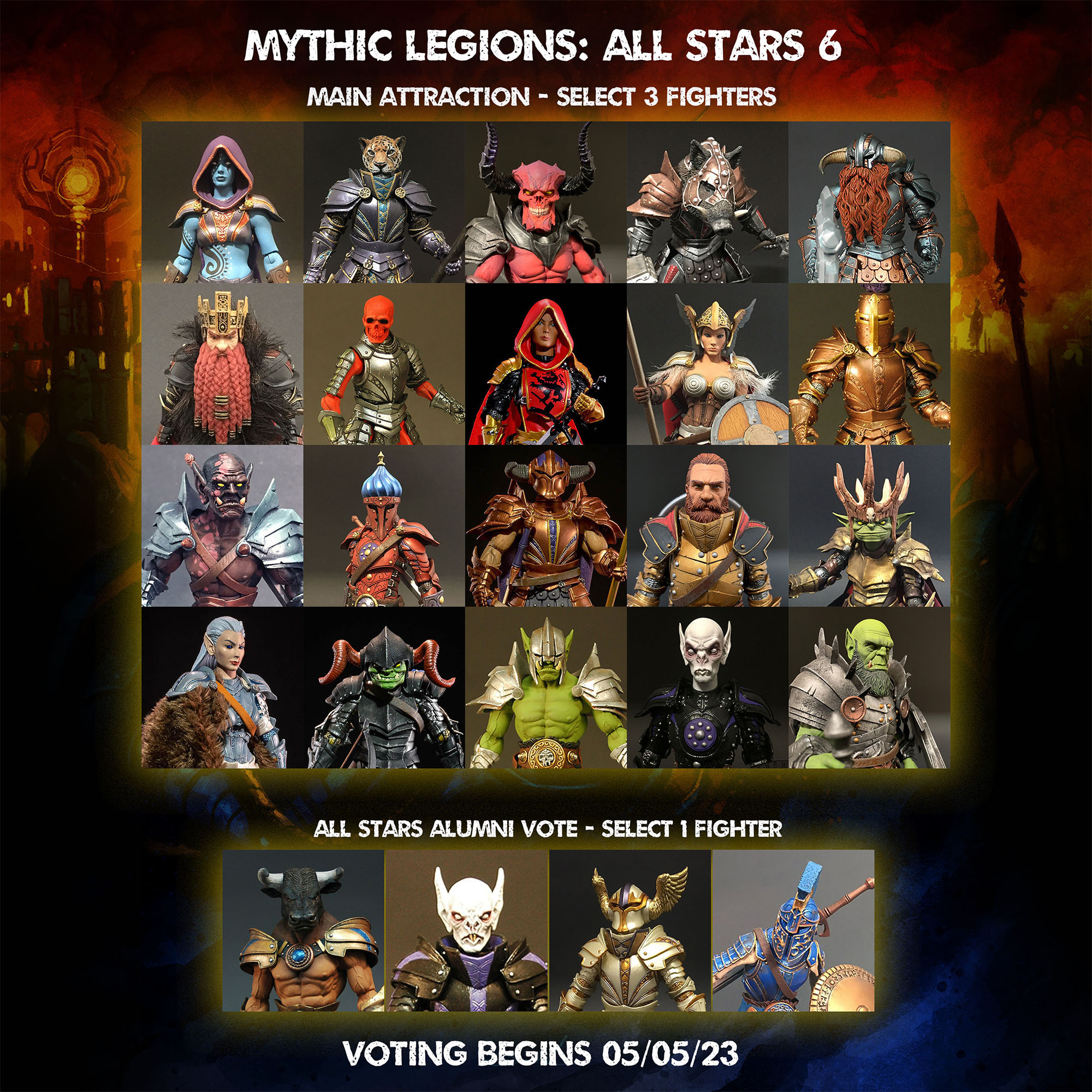 Published on 05.01.23