News Update
After a recent pair of cryptic posts and accompanying "log entries" got Legionnaires speculating about an expansion on the Cosmic Legions story, Four Horsemen Studios is now excited to announce plans for the next wave in our sci-fi themed figure line. The "Cosmic Legions: OxKrewe, Book One – Thraxxon" wave will make its debut at the Power-Con event in Columbus, OH on August 11-13. Here are the full details on this new wave and what the studio has lined up for this show:
Four Horsemen Studios has proudly been a part of every Power-Con held to date, and for 2023 we will be out in force at the event with nearly the entire studio team on hand to meet with fellow toy fans and talk Legions! The company will have a wide range of our products available for sale at the show, including Mythic Legions, Cosmic Legions, and Figura Obscura, as well as displays of these properties for attendees to enjoy. The items for sale will include a very limited number of our "Power-Con Debut" figures for 2023 – the Cosmic Legions characters of Opor-A-Tiv83 and Sskur'ge. Additionally, we produced an exclusive figure for Power-Con named "Demistros". This figure is almost sold out, and only few remain for attendees of the show. Demistros is offered by Power-Con directly and NOT by the studio (which means that figure will not be at our table and any sales of that figure are handled directly by Power-Con).
On the first day of Power-Con, (Friday, 8/11), the studio will also be holding a panel discussion and audience Q&A from 3:30pm until 4:20pm. The exact location of this session will be listed at the venue as part of the show information.
Now, the big news for our plans at this event is the reveal and preorder for a brand-new Cosmic Legions wave! The Cosmic Legions line was officially launched at the show back in 2021, and with this first wave in this line hitting toy collections now, it was perfect timing to unveil the next big expansion in this brand's story at Power-Con 2023! This wave, which is titled "Cosmic Legions: OxKrewe, Book One – Thraxxon", is the first major story expansion in the line since the initial "Hvalkatar" waves. These new figures will be revealed to the world during a private party and LIVE reveal special taking place at Power-Con on Friday, August 11th at 9pm EST. The reveal special will be broadcast live on the studio's YouTube channel.
Once the reveal special is done at 10:30pm EST, the new Cosmic Legions wave will be available for preorder directly from StoreHorsemen.com. Full details on the number of figures offered, pricing, and preorder duration will be revealed during the special broadcast.
Beginning on Saturday, August 12th, the new OxKrewe figures will be ON DISPLAY at the Power-Con event – so if you are attending the show over the weekend, you will be able to see the new items in person at the Four Horsemen Studios' booth.
For more details on Power-Con 2023 and to purchase tickets, visit www.ThePower-Con.com.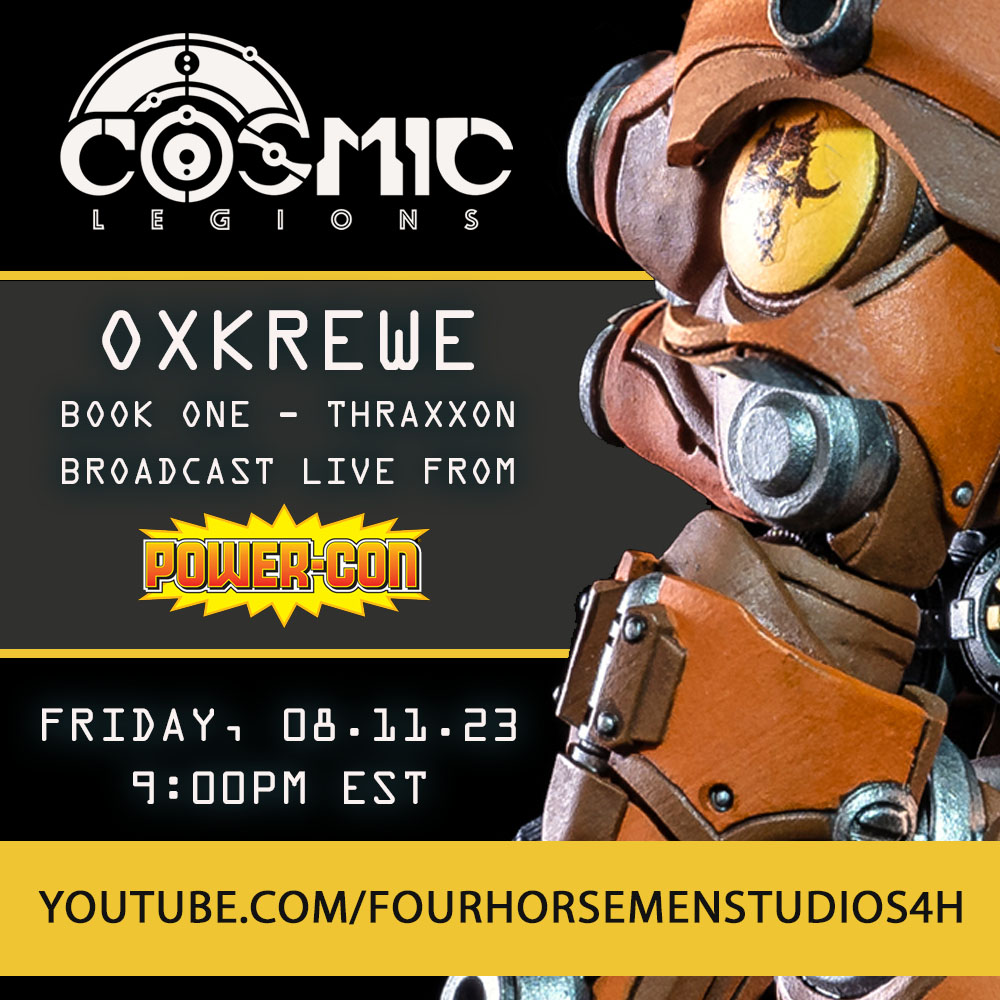 Published on 08.02.23