News Update
The fourth annual MuskeCon Comic and Toy Convention is coming up next month, and this year members of Four Horsemen Toy Design will be there!
Jim Preziosi and H. Eric "Cornboy" Mayse will be making the trek from the wilds of northern New Jersey to the beautiful metropolis of Muskegon, Michigan to meet Mythic Legions collectors and hang out with fellow toy nerds and comic book geeks!
MuskeCon 2020 is on March 21st, from 10am to 6pm at the Delta Hotels by Marriott, and admission is only $5.00 per person (kids 12 and under free)!!
For more information, visit muskecon.com
We hope we get to see you there!
-FOUR HORSEMEN-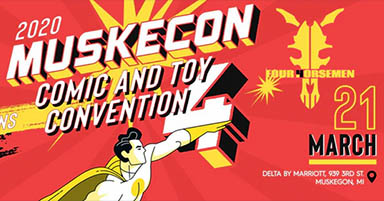 Published on 02.19.20