With the recent official announcement at LegionsCon 2020 of our new Cosmic Legions line, fans of Four Horsemen Studios are getting excited for us to explore the vastness of space and turn our creativity to the many alien races that exist far beyond the Realm of Mythoss. While we are thrilled to see fans so excited for this line, the reality is that this is not the first time we have taken off into the outer reaches with the toy lines we have released! In this "Blast from the Past" article, we will explore the Outer Space Men.
The History of OSM
The Outer Space Men line was the first licensed property we would release at Four Horsemen Studios. We have of course worked on hundreds of licensed properties for other companies over the years, but for the actual figures that we've released ourselves, we had always created our own properties like Seventh Kingdom or Gothitropolis. In 2008, however, we decided to branch out and try something new by partnering with toy inventor Mel Birnkrant to revive The Outer Space Men.
Originally released in 1968 as bendable action figures that included a wire armature for movement, the character designs from this line were, if you will pardon the pun, "out of this world!" These characters were meant to represent alien beings from planets in our solar system, in addition to other locations throughout the galaxy. The range of characters available in the original line, and the passion of their original creator, made for an exciting property for us to choose for our first licensed line.
Glyos Compatibility
From the beginning, we decided to build the new Outer Space Men line to include Glyos compatibility. Developed by Onell Design, this peg and socket join system allows for easy interchangeability between any figures that use this system. In fact, we had originally planned on using this system, and the smaller scale of the Glyos system, for our Mythic Legions line. While that line was eventual scaled up to the 1:12 scale we have today, the idea of "swapable" parts was something we kept intact – much to the delight of all the customizers who now enjoy the Mythic Legions toys!
OSM figures would include this Glyos system as part of the construction of the figures, while the characters themselves would be drawn from the original run of figures, plus some brand new characters added along the way. Throughout this entire process, we worked closely with Mel Birnkrant to realize his vision in these characters, while bringing our expertise in toy creation to bear to create a very cool line of new action figures.
Note – this article is meant to be somewhat of a high-level overview of the work we did on the Outer Space Men line. If you want a much, MUCH more detailed look at these characters and the process that went into creating each one, check out Mel's website. That site is a treasure trove of images, production notes, and back and forth conversations between himself and Eric as these toys were being developed. Honestly, you can spend hours on his site looking at all the images and going over his notes and ideas for each character. You can find that site at http://melbirnkrant.com/return/index.html
Wave 1 of OSM
The first wave of the new Outer Space Men line consisted of:
Astro-Nautilus (the Man from Neptune)
Xodiac (the Man from Saturn)
Metamorpho (the Man from Alpha Centauri)
Inferno (the Man from Mercury)
We would initially release these characters translucent versions at Comic Con and on our website in 2010 (shown below). The limited run of 500 sets sold out both at the show and online within 24 hours and the line was off and running!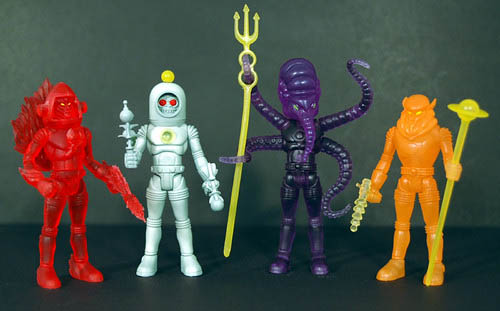 We would produce figures for this line for a total of 4 years, eventually releasing 21 different characters for the line as well as some color variations of those characters along the way. To say that this was a fun line to work on would be a massive understatement. To be able to reimagine such a fun toy line, and to be able to do so alongside its original creator, while also getting to work with wonderful people like Matt and Michelle Doughty of Onell Design, was a joy and we look back fondly on this experience.
The photos in this article are some examples of the figures and color variants that were released during this lines run.
More Information
There is a TON of information on the Outer Space Men out there for you to enjoy. In addition to the link to Mel's website covering the development of the new line, here are some other links you may enjoy:
Outer Space Men in Cosmic Legions?
An obvious question many will ask after reading this article is whether or not any of these fun character designs may one day make their way into Cosmic Legions. The short answer is "no". These characters are ones which we do not have the rights to use in our own in-house line, but you can rest assured that the same sense of variety in character designs is something we are excited to bring to Cosmic Legions line for many series to come!
Published on 01.05.21