The community of Legions fans turned their attention to New Jersey recently as Four Horsemen Studios held the second annual "Mythic Weekend." In truth, these events were so big that they spanned beyond just the weekend, encompassing 4 amazing days of Legions-focused fun. In this "Behind the Scenes" article, we will recap all the events, reveals, and excitement that took place between November 10th to 14th, 2021!


Intern for a Day
We first began planning the events of "Mythic Weekend" back in April of this year. The initial plan was to do the annual G-con broadcast event on Friday, Nov 12th, followed by two days of ToyConNJ, and then adding LegionsCon on the Sunday. This combination of G-con and LegionsCon in 2020 is what created the "Mythic Weekend" concept in the first place, so we thought that adding ToyConNJ to the mix would make it even better – but we were not done yet! We knew we had to plan a date for the "Intern for a Day" experience that was a reward offered in our private crowdfunding campaign for "Mythic Legions Tactics: War of the Aetherblade." The idea was tossed out to do the event on the day before G-con, creating an epic 4-days of Legions content.
This event would be the third time our studio has hosted fans as part of an "Intern for a Day" event, but it would be the first time in our new offices. Truth be told, the arrival of our Intern guests helped push us to finally fix up the office the way we had wanted to since we moved in! We were actually making the move to this space right around the time Covid hit, and having so few people in the studio for so long allowed us to procrastinate on finishing it the way we had wanted to. Knowing that we had to look our best for our guests, we got it done and the place looked wonderful (if we do say so ourselves).
Arriving at the studios, our Interns were treated to coffee, donuts, and bagels for breakfast before being broken into 4 smaller groups. These groups would rotate through different workshop-like sessions throughout the day. Eric Treadaway gave a 3D-sculpting demonstration using ZBrush, Sherri Lynn Cook and Cameron Smith talked about painting and also demonstrated some of their techniques, the team from Great Hall Games Studio did motion capture on the Interns to gather movements that they will later use in the coming video game, and Jim Preziosi gave tours of the unique building which we share with a props company that does work for movies, television, and Broadway shows. Each of these sessions lasted about an hour before the interns moved onto their next workshop!
After a lunch of Jersey pizza, all of the Interns were presented with a surprise – an oversized bust of the demonic Belphegorr! Using the paint techniques that Sherri and Cameron had taught them, they were able to paint their busts anyway they chose. There were some amazing finished pieces by the end of the session for sure!
Wrapping up the day, the Interns were given a few more surprises, including a free All Stars 4 figure, a super exclusive 4H Intern pin, and perhaps best of all – an invitation back to Four Horsemen Studios to be part of a live audience for the G-con: Poxxus event to be held the next day! Lord Veteris even made an appearance during the afternoon and gave the group yet another perk – early access to both ToyConNJ and LegionsCon over the weekend. Talk about bang for your buck! These Interns got an amazing experience and some very cool surprises as well. Below is a shot that was taken at the end of the day showing our latest class of 4H Interns with Walter "The Madman" Hagan!
G-con: Poxxus
For the fourth year in a row, we would hold an online broadcast to launch a new line. Dubbed G-con: Poxxus after the Horsemen-led wave that would be unleashed, the day began with a mad dash to get the figure prototypes ready for their spotlight (actually, we were in the studio until well past midnight getting them ready the night before, and then we finished them in the morning!). With 6 full hours to fill with content, we planned to do a reveals and giveaways every 30 mins (we actually gave away test shots of the entire Mythic Legions: Arethyr wave). We also invited many members of the studio, our friends, and family members to join us for specific segments. It was set to be a big day in the Realm of Mythoss!
Our Intern guests arrived shortly before the 11am show was scheduled to begin. We set them up in a large room down the hall from the studio space where the broadcast was being held and projected the event onto a large screen for them. At the last minute, we also got the idea to add a camera to the front of the room so that we could cut over to this live studio audience and a get real time reactions for each reveal. This was honestly a last-minute addition, but it ended up being an awesome one! Being on the side of the camera we are on, it is really hard to experience fan reactions during the event outside of the comments that scroll by so quickly - so being able to see the delighted faces of our Intern guests and hear their whoops and hollers was incredible for us who were on air presenting the reveals. From the feedback we received, fans back home loved it as well! We expect we will have a live studio audience for G-con from here on out. Below are some images from this day!
As for the reveals themselves, a total of 10 new figures were unveiled during the broadcast, as well as a pair of spell effects packs, a weapons pack, and a hands pack. These new figures came from the Circle of Poxxus and Convocation of Bassylia factions, and they represented a variety of schools of magic.


The Poxxus wave also gave us some firsts – including the first soft goods robes in the line (expertly tailored by the team at CJseim), the first "brute" scale figures which use the larger upper body introduced with the Aphareus figure, and the first "heroic" orc in the brute-scale Tharnog. We also got some brand new races in this wave – a Djinn, a Umangeist, a Dragosyr, and a Lich. Speaking of the Lich, the day of reveals culminated with the arrival of the third Horsemen – Poxxus and his disease-ridden steed, Pholgeus!
The photo below is one of our favorites from the weekend, showing our entire studio, plus guests and Interns, at the end of the G-con: Poxxus broadcast.

It's a Legions Party at the Days Inn
One of coolest parts of this entire experience for many fans was getting to connect with so many people who they have engaged with online in the Mythic Legions Cabal or elsewhere, but had never been able to meet in person. The Days Inn in Wayne, NJ became the unofficial hotel for the event, and as more and more Legions fans arrived on Friday night in advance of the weekend's events, the "breakfast room" at the hotel became Legions Party Central!
It was amazing to be in that space and see so many familiar faces walk through the door. People who were meeting in person for the first time greeted each other like old friends as everyone talked about the Poxxus reveals and the Legions community in general. People had flown across the country, and even across half the globe in some cases to be at this event, but no one wanted to leave the party and get to bed, and the celebration was still going strong well past 1am! Clearly there would be some tired Legions fans at ToyConNJ the next day! Hanging out with Jeremy below is Nikki Nikole Chaney, Jerome of Oberon's Plastic Dreams, and Eric Lebron!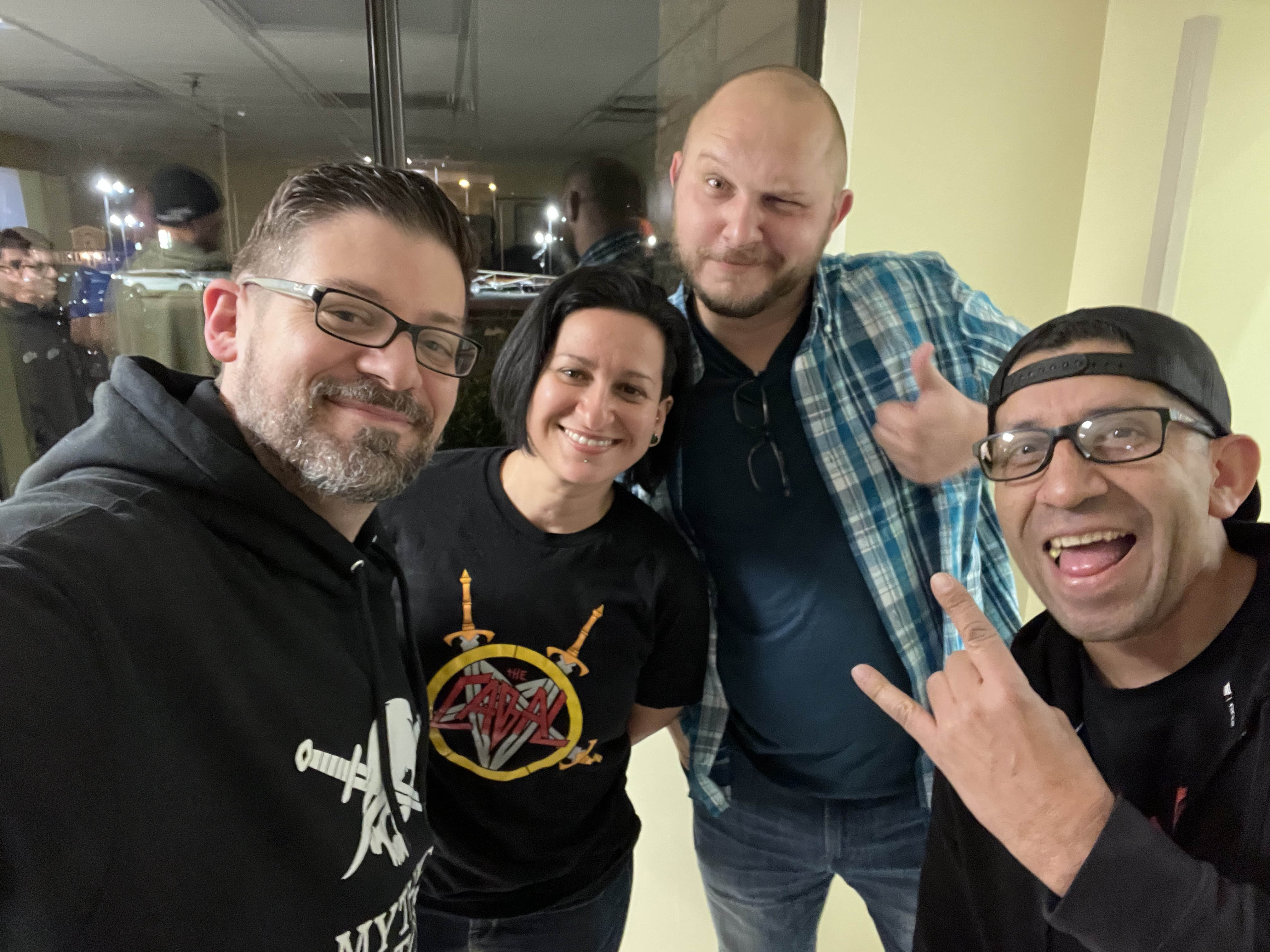 ToyConNJ
We have said it before – ToyConNJ is one of our favorite shows to attend. It is right in our backyard, which allows us to really go all out for this event. We can bring LOTS of product to sell, and many members of our studio are often able to be a part of the event as well. This edition of ToyConNJ was even cooler because we had so many friends and collaborators who were in town for G-con and LegionsCon! People like Nate Baertsch, Israel Ramiriez, and Walter Hagen joined in the fun, as did the crew from LegionsCast / the My Wife is Going to Kill Me Podcast. The Four Horsemen Studios table was packed all day – and we made many trips back to the studio to get even more product to meet the demand of Legions fanatics!
As amazing as ToyConNJ was, you could feel the anticipation in the room amongst the fans who knew that there was so much in store for the next day. Many of the exhibitors who would have tables at LegionsCon were mingling on Saturday and meeting fans, and it was great to see everyone engaging and enjoying each other's company.
Speaking of enjoying each other's company – as ToyConNJ wound down, a LARGE group of fans hit up a nearby restaurant/bar to enjoy dinner and drinks together. The photo below was taken by a kind waitress as she tried to capture all of the insane toy fans partying!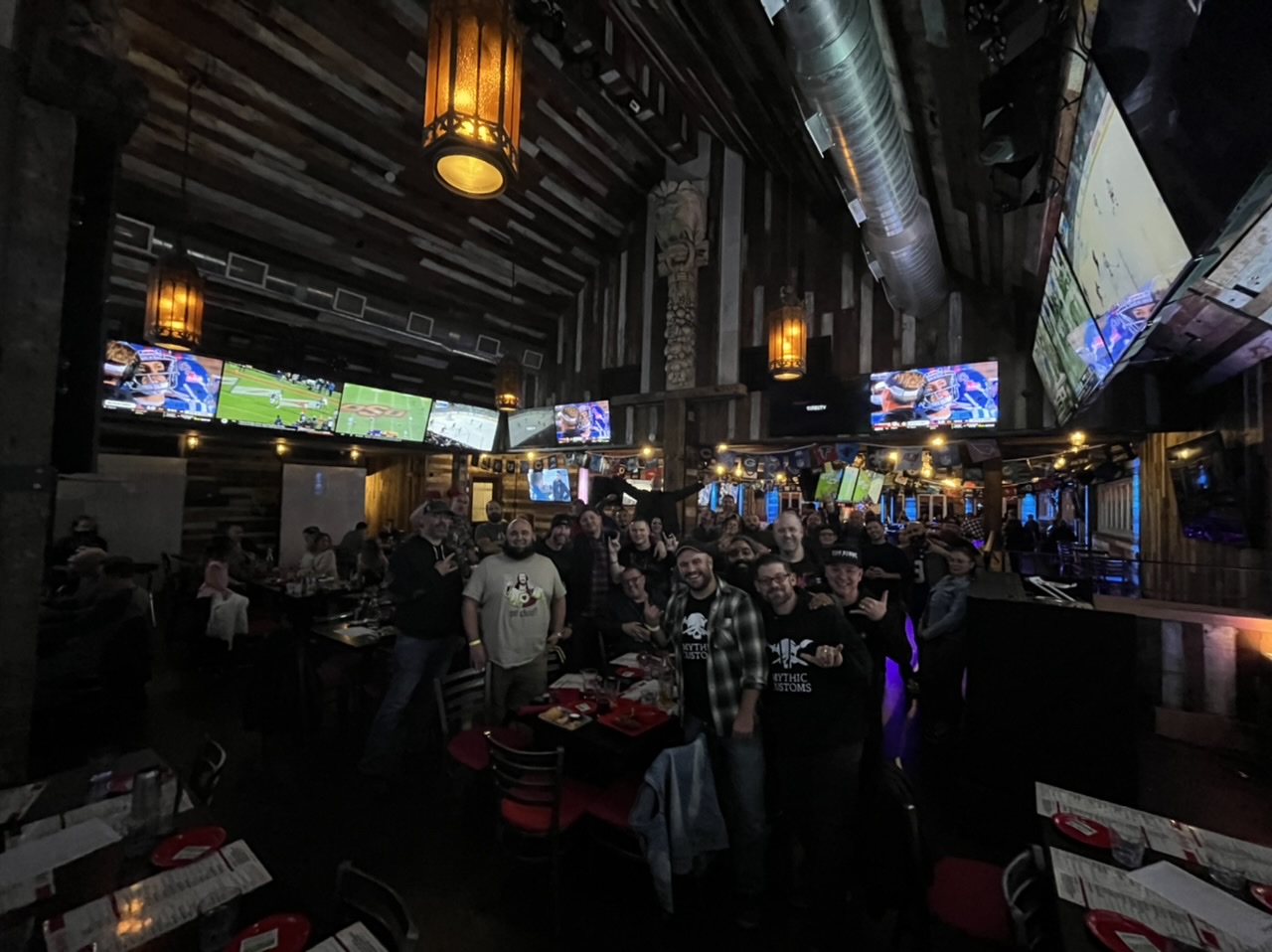 LegionsCon 2021
The culmination of Mythic Weekend was the third annual LegionsCon. This event was first held in 2019 as a ToyConNJ after party, and the second year ended up needing to be fully virtual due to Covid, so this 2021 edition really felt like the first full-fledged outing. We had pretty lofty expectations of what this event could be – and it totally blew away those expectations! Below is a shot of Eric Treadaway behind the 4H table just as the doors began to open.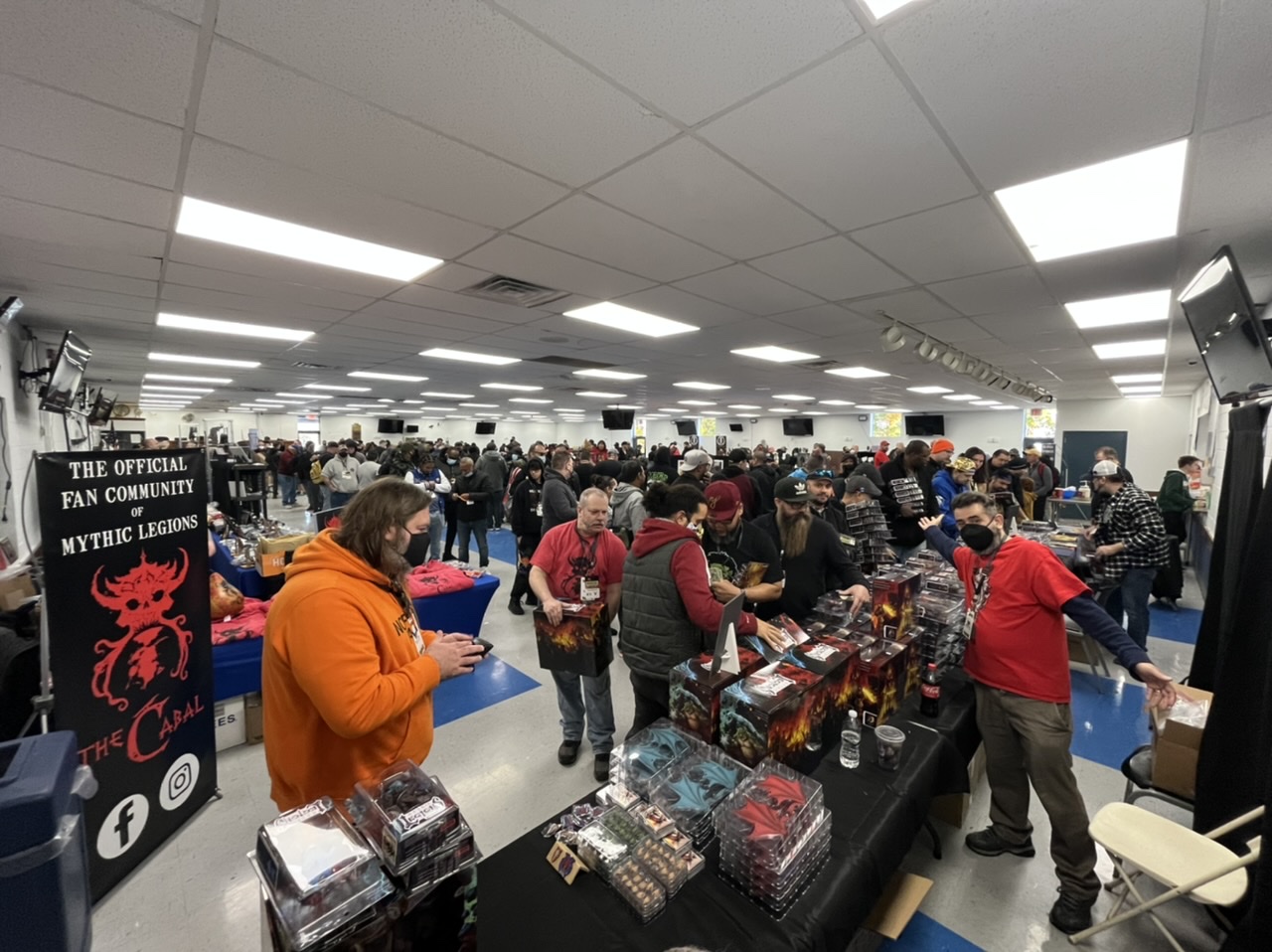 Created and run by Joseph "Lord Veteris" Veteri and our very own "Sir Girard", LegionsCon brings together artists, customizers, 3D sculptors and printers, photographers, and Legions fans in an event that is part toy show, part art exhibit. The amount of talent in the room was staggering and there were so many amazing things to see (and buy!) that it was a wonderland for anyone who enjoys Legions.
This year also had a new element with the inclusion of a number of independent toy creators. This is something we plan to build on in future years! The reality is that Mythic and Cosmic Legions are homegrown toy properties, and the amazing community of fans supporting those lines was built from the ground up without a comic, movie, TV show, or other entertainment property to back it up. There are so many amazing companies doing this same thing these days, and we want LegionsCon to help shine a light on the work they are doing! This year we had Fox Forge Toys, Creative Beast Studios, Lone Coconut, and even our very own Chris Gawrych and his D13 Toys venture set up and showing off their products and prototypes. We already have some additional companies lined up for next year and we are excited for this growing aspect of LegionsCon – the Independent Toy Creators Showcase!
It was amazing to see the doors of LegionsCon open and the wave of fans pour in. The energy in the room was electric, and the creativity of the Legionnaires who were part of the show was unbelievable. We were floored by the art that others have created using and based on our toys. To see it all on display was humbling and inspiring. Needless to say, when we got back to the studio on Monday, we were so energized and our mission to continue creating cool toys was stronger than ever!
Plans for 2022?
While we are not yet ready to reveal our plans for 2022, we are indeed already laying the groundwork for that event. We cannot wait to share those plans with you and we know that it will really be a week to remember!
In the meantime, below is a gallery from LegionsCon 2021, courtesy of Jeremy Dewitt, Grigorios Mactavish, Joe Russo, Walter Hagen and more.
Published on 11.23.21